In the last few years, there has been a growing understanding of the factors that influence SERP rankings. SEO has become more than just about on-page website optimization.
In fact, at its core, it's all about getting your site to rank higher in the search engine results pages (SERPs) for keywords you want to rank for and while on-page content optimization helps, it only gets you so far.
And this starts with choosing those keywords and making sure they appear on your website – but it doesn't stop there. There are many other factors that contribute to your SERP rankings, from backlinks and social shares to quality content and even things like image alt text or meta tags. In this article, I'll go over some of the most important factors that impact how high up in the SERPs you can end up ranking.
But first…
What Is SEO And How Does It Work
SEO is the acronym for Search Engine Optimization. In other words, SEO is a set of techniques that can be used to improve how your website appears in search engine results pages (SERPs).
SEO has always been about making sure users find you when they need your product or service—and not just once, but over and over again.
Improving your company's visibility on SERPs begins with understanding where you currently rank on Google and Bing, and a high-level overview of how people are currently finding you.
In many cases, organizations have been stuck to the bottom of the SERPs because their websites are not optimized for SEO purposes. This means they may see very little traffic come to their website.
Writing For Both Humans And Search Engines
You may be familiar with the acronym "S-T-O-P", or Stop Trying to Please Everyone. This acronym is often used in SEO circles as a reminder to create content for humans first and search engines second.
To do this, an organization's online content must follow a clear, concise writing style with keywords, phrases, and topics that are relevant to their industry.
This all begins with proper keyword research.
A tip about SEO content writing before we move on – it is typically easiest to write an article fully, without consideration for your keywords first. This will allow you to get the proper feel for the article you are looking for without being bogged down by keywords. Once written, then go back and modify your text to include some of the keywords you are trying to target.
Here's What You Need To Know Before Figuring Out Your Keywords
Before you can figure out what keywords will work for your business, you need to know the following:
What type of website do you have?
What is your company's niche?
Have you already figured out which keywords are driving traffic to your site?
Now that you know all this, it's time to figure out the best keywords for your website. Here are some great places to find high traffic yet low competition keywords:
Google Analytics – If your website currently receives organic traffic, go to your Landing page tab in Google Analytics, filter just by Organic Traffic and you will see where people enter your site. This isn't a perfect method, but it gives you a very good idea of where your traffic is coming from.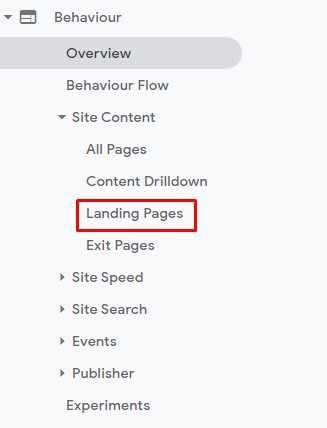 Ahrefs – has a free version for personal websites that can allow you to see what your site is currently ranking for.
SEMrush – has limited free functionality as well.
These tools will help you find keywords that fit your business and attract new customers.
Understanding The Factors That Influence SERP Rankings
The factors that influence SERP rankings are many. Google, for example, is reluctant to give too much away about how they rank search results because it remains a competitive advantage. There are some elements that are well-known and can be used to improve your rankings. Keywords play a big role in this.
The more relevant keywords you have on your page, the better Google will understand what your page is about and the higher it will rank your site for those keywords. In addition to keywords, links from other sites also influence rankings. Links from reputable or popular websites will help improve how high a site ranks.
There are many factors that can affect ranking outside of keyword optimization and links to your site. For example, speed plays a pivotal role in how quickly a website loads, and if a visitor simply leaves because a website takes too long to load it can negatively impact ratings and more importantly your bottom line. It's important to make sure your site's technical architecture and hosting system are up-to-date in order to avoid any unnecessary speed issues.
Another factor is the amount of content on your page, which is related to your chosen keywords. Typically, the more information you have on a webpage, the better it will rank for that particular topic when compared with other pages that may only have a sentence or two about the same subject. However, too much content can also have an impact on rankings because Google is looking for "quality" content, not just volume. If all of the information on your site doesn't seem relevant or valuable it might be hurting your SERP rank.
The Top 5 SEO Items To Work On
I know that a lot of people equate SEO with blogging and link building, but these are only a few of the things that influence SERP rankings. Here are my top 5:
Content Quality: Make sure you have quality content on your website. This isn't just about your blogs but your service and product pages as well. This is one of the most important factors influencing Google's search results.
Page Load Speed & User Experience: One way to improve this is to use page caching. You can also take steps as far as delaying javascript loading and reducing redirects.
Site Architecture: Google looks at how your site is laid out to determine how it ranks for certain keywords. The more clean and clear the site architecture, the better chance you have of ranking first in google search results.
Social Signals & Link Building: Google is not only looking at the keywords you use, they are also looking for how many people are sharing your content on social media sites like Reddit, StumbleUpon and Facebook as well as what other sites link to you. The more shared your content is, the better chance you have of ranking first in google search results.
Internal Linking Structure: The linking structure between pages of your website is important to indicate relevancy. The more links that point to other relevant pages, the higher chance you have of ranking first in google search results. However, keep it natural and avoid over-optimization by using exact match anchor text all the time.
Conclusion
In order to rank well in Google search results, you need to make sure that the content on your website is quality and relevant. It's also important not only to have a clean site design but also one that loads quickly for visitors who are using google from their mobile device or computer.
If these factors seem intimidating, don't worry! Our Halifax SEO team would be happy to help with any of them if you contact us today.
Our team has been working closely with top-ranking websites for years and we know how challenging it can be when all of this seems overwhelming at times. Let us take care of everything and you can focus on your business.