Local search rankings are becoming more and more important for driving traffic to your website. Consumers are increasingly relying on the Internet to find local businesses, rather than using traditional methods like word of mouth or searching through yellow pages. If you want to be found online by consumers in your area, it's time to increase your efforts for Local Search rankings!
What are Local Search rankings?
Local Search Rankings is where your website appears when you search for localized content such as 'plumber near me', or 'plumber Dartmouth.
Take a look below for an example.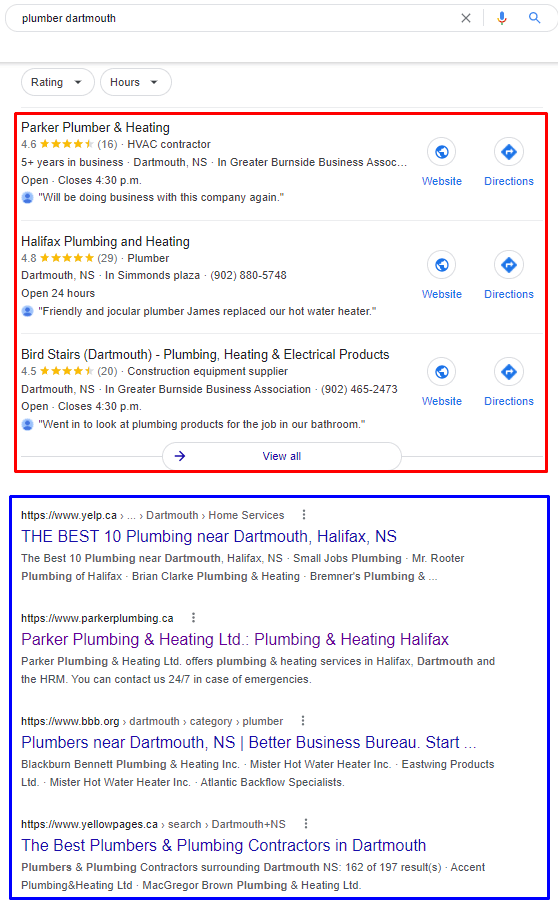 Local Searches typically revolve around the 'Map-Pack' which are the map listings, shown in the red outline, and the organic local search results which can be demonstrated by Yelp, BBB, etc results outlined in blue.
Because of local searches, it is possible for a relatively small business to outrank large or even enterprise-level businesses that offer local services but do not service a particular market.
Why are Local Search rankings important?
Let's look at the data. These are compiled by Ahrefs.
Simply put – a significant portion of searches that occur on Google are locationally based searches. Targeting these words is done either via pay-per-click ads (akin to renting an apartment), or Local SEO efforts (Similar to buying and owning a house).
How to improve your website for local search results
This is certainly a loaded topic, and one we have (and will continue) to cover bit by bit in articles, but here are some simple steps you can take.
The first step is to identify your target audience and the keywords they search for when looking for a business like yours. If you are a pet store located in the heart of Halifax, there's no point in trying to rank for "Best Pet Shops In Toronto" (unless of course if that happens to be what people search for which is HIGHLY unlikely).
Once you have established which terms best describe your business, it's time to start building them into your website. Ensuring your keywords appear on your website will be vitally important, especially for a local business. This can also be done through on-page optimization, such as including keywords in the title tags and meta descriptions of each page.
You can also look at analytics for competitors who rank well in local search results – what are they doing? How do they structure their websites, title tags, meta descriptions, etc.? You'd be surprised at how much data you can collect from visiting a competitor's website. You may notice that all of the top competitors, for example, have a newsletter sign-up button at the top of their page. Perhaps you should add one as well.
Finally – it's important to monitor your rankings for these keywords on a regular basis. At first, you can just do a weekly or bi-weekly search of the keywords you are targeting. Take note of where you appear. Eventually, though, you will want to purchase software to do this for you. As you add additional keywords to rank for, this task becomes quite time-consuming.
Conclusion
Local search rankings are a vital component of any digital marketing strategy. As seen above, with 30% of all mobile searches being related to location, 76% of people who search on their smartphones for something nearby visiting the business within a day, and 28% of these searches resulting in a purchase, it's clear why local SEO efforts should be an integral part your company's overall online presence.
With such high volume and conversion rates associated with this type of traffic, it is imperative that you take steps to improve your website for local search results – starting by identifying which keywords best describe your business and then incorporating them into the creation or optimization process.
Like any business, the complexities of SEO are endless. If you are not sure where to begin – feel free to a look at our Local SEO Services. We would be more than happy to help you get the results you deserve.