Search engine optimization at its core is quite simple. You start with a technically sound foundation, develop optimized content, and then market these pieces of content which will ultimately lead to backlinks. The problem is there are so many different technical SEO tools out there. The landscape is just confusing and search engines are constantly evolving.
Here are my favourite free SEO tools to get you started on the right foot. An SEO audit need not be expensive. By adding some of these tools to your workflow you can improve the qualify of each SEO audit you perform and improve your or your client's SEO strategy. And I promise to provide you with my favourite tool at the end.
This list won't focus on keyword research tools, but rather tools to help you discover technical issues with your web pages that prevent crawling, being optimized properly, or that negatively impact your page in the search results.
Whether or not you are focusing on broad-based SEO or Local SEO, this list will help you tackle any technical issues you may face.
Screaming Frog
Screaming frog is arguably one of the best technical SEO tools on the market. It has been around for a long time. They have a free tool and a paid upgrade. I think every SEO professional is aware of this one.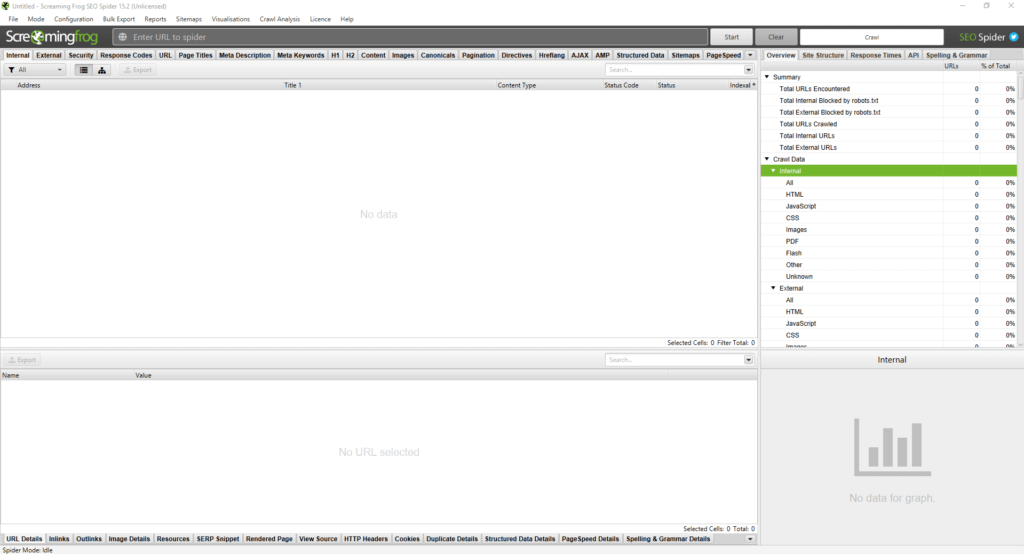 I will reserve an extensive how-to for another article but in a nutshell, screaming frog allows you to monitor and understand nearly every aspect of your technical SEO aspects.
This includes, but isn't limited to:
Finding broken links on your site,
Understanding if there are any meta descriptions and other tags missing,
Duplicate or missing page titles,
Reviewing your crawl depth, and
Discovering duplicate content.
However, my favourite part of Screaming Frog is it has built-in filters for each header.
For example, if you navigate to the Page Titles menu you can filter for missing title tags, duplicate, over 60 characters, etc.
The best part? This feature exists in nearly all of the headings and is a wicked time saver compared to doing this manually.
There is a paid version of Screaming Frog available, however, I have yet to pay for it as the free version performs all of the functions I need it to function.
What I use Screaming Frog for: Technical SEO website audits to ensure content is indexable, has appropriate meta tags, and to uncover any broken links, etc.
It has also helped me find internal links that link to redirected pages and fix them. This helps avoid additional loading speed for users, making their experience better.
Limitations: The free version lacks features and can only crawl up to 500 URLs at once. I have yet to find a missing feature that was foundational that I haven't found elsewhere.
Ahrefs Webmaster Tools
I would argue this is the best all-around free SEO tool but is a strong contender for the top position on this technical SEO tools list.

The information provided by Ahrefs is astounding. Not only will you get access to a 'Health Score', which is their technical SEO side audit, but you will be able to see your domain rating, referring domains, backlinks, keywords you rank for and what countries you rank in. It is quite a nifty tool.
Their site audit tool will provide you with an extensive list of potential problems with your website.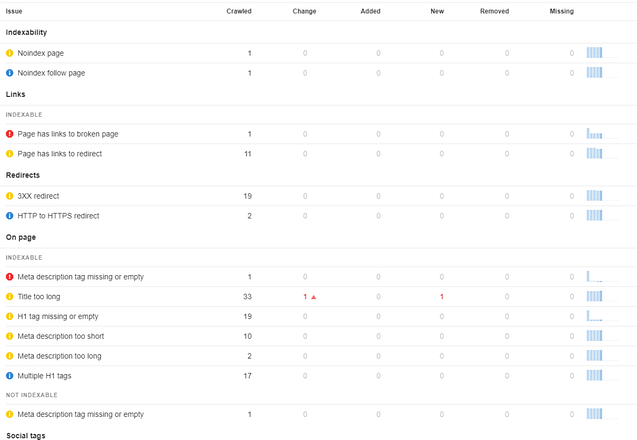 Of course, not every issue is actually going to be a major issue. So make sure to determine if a fix is actually required for each given item before taking action. For example, in the report listed above you will see a 'Noindex page' as a warning. However, this page is purposefully noindexed and thus doesn't require correcting.
Ahrefs has historically been known as a helpful tool for link-building prospecting, backlink analysis, and keyword research but with their Webmaster Tools, they have really increased their functionality.
What I use Ahrefs for: I primarily use Ahrefs for the ongoing crawl audits that happen automatically. While you cannot get as granular as Screaming Frog, this reporting feature makes it very easy to know if something is messed up or broken very quickly.
While not a technical SEO issue, I also use Ahrefs to monitor my backlink profile. Compared to other tools, like UberSuggest – Ahrefs picks up new links very quickly.
Limitations: The free version lacks features – primarily in the department of auditing other domains & rank tracking. However, I haven't found a single site audit limitation. Yet.
Experte Speed Test
Google has confirmed that its Core Web Vitals are now part of the ranking algorithm page speed, and it's related core components are very important. Experte Speed Test crawls your website and runs a Google Pagespeed test on each one.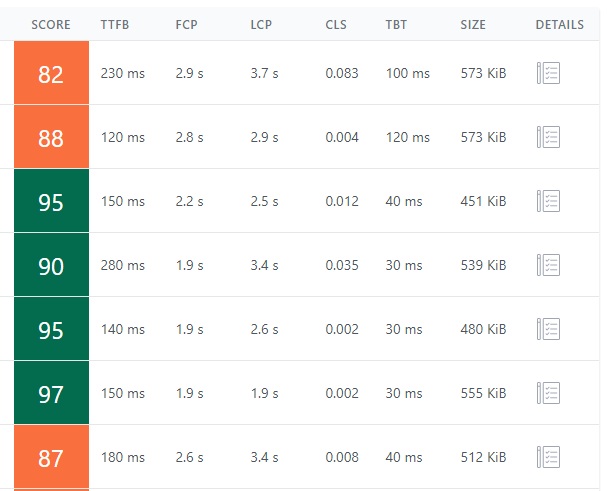 By clicking the little pencil + paper icon to the right of the test, it will also open up the Google Pagespeed test and provide you with a breakdown of what requires fixing.
What I use Experte Speed Test: Running full-site speed tests. I run them once every few weeks to determine if anything major has changed.
Limitations: I haven't found any!
Google Search Console
No SEO tool list would be complete without discussing Google Search Console (GSC). Who better to get information than from the search engines themselves. This is exactly what GSC permits you to do.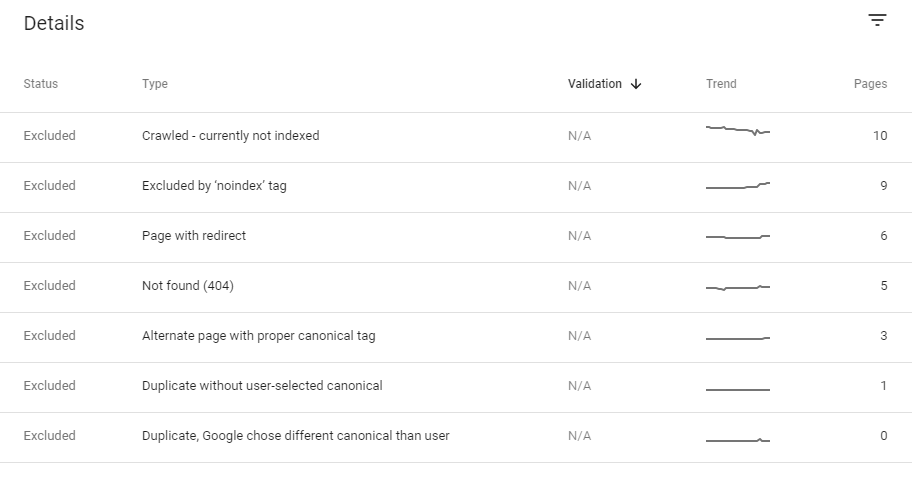 GSC will allow you to see exactly why your pages are not indexed. It will also allow you to see how many impressions you received for the relevant keywords your web pages rank for.
For those familiar with Google Analytics, you will know this data has always been a challenge to obtain.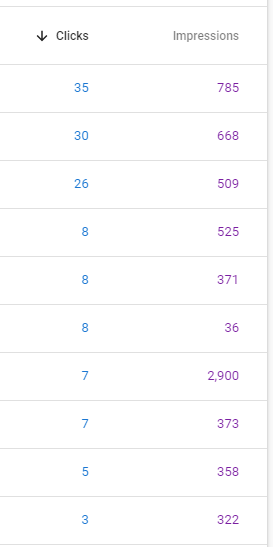 GSC doesn't allow you to see the search volume – but it will allow you to see keyword rankings and the impressions you actually receive for that keyword. In my opinion, this is far more valuable than many of the search volume tools out there.
If you are focusing on Bing, you should check out Bing Webmaster Tools.
What is the #1 Technical SEO Tool to dominate the search engines?
If I had to choose just one technical SEO tool – I would personally choose Screaming Frog. Speaking purely about the technical aspects of SEO, no other platform, even Ahrefs & Google Search Console provide as much technical depth as Screaming Frog does.
When performing technical SEO audits you can't get better than this – at least in my opinion!
However, if you are looking for an easy-to-understand report, Ahref's Webmaster Tools provides you with a great resource for a local business or national business.
Other Tools – Honourable Mentions
Semrush
Semrush isn't a brand new tool by any stretch and has been a primary tool for many SEO professionals and enthusiasts alike. The problem is their free tier is extremely limited. It does do a great job at auditing sites but when compared to the tools above it is significantly lacking.
Manual Review
Many technical SEO issues can be discovered via a manual review, without any free tools whatsoever. This can work well for small sites but be a nightmare for older sites. Some general checks you can do are:
Ensure every page has an H1 tag by inspecting the source code,
Ensure every page has a unique, descriptive, page title,
Review your robots.txt file to ensure nothing is blocked,
Ensure all meta tags (meta titles, meta keywords, meta descriptions, etc) are present,
Ensure your images are properly optimized, and
Review your page's site speed.
Manual reviews are normally done as it relates to content optimization to ensure proper schema markup is added to pages, but most people don't really look at the technical aspects all that often.
UberSuggest
Ubersuggest, from Neil Patel, is a great tool. They use to allow 5 projects on their free tier but have since reduced this to a single project. I would have added this to the list, if not for this flaw.